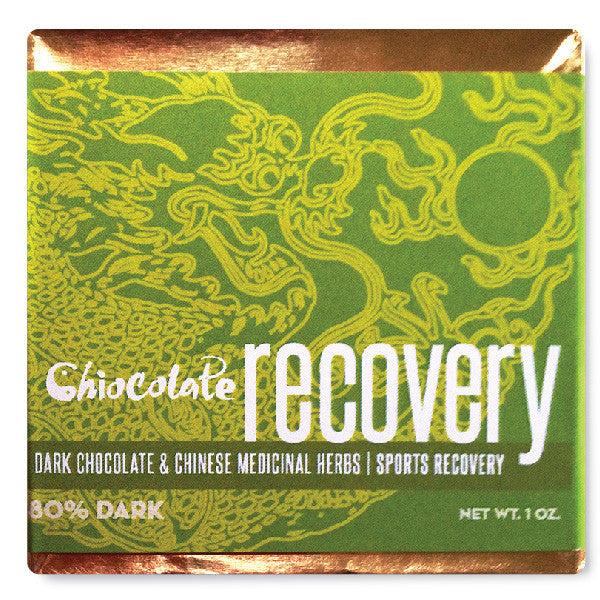 Recovery
Sports Recovery Formula
The Recovery bar is based on a formula from the "Essentials from the Golden Cabinet" (c. 220) called Dang gui jian zhong tang.  I have modified it to fit the needs of those that are looking for faster recovery. It is used to nourish and help replenish the body and mind after exertions.  Each bar contains a full 2 grams of concentrated herbal formula.  Up to three bars can be consumed in one day.  In Chinese Medicine the purpose of this formula is to nourish blood, relieve pain, reduce swelling, nourish sinews, boost the immune system, and combat fatigue.
Ingredients: Organic Cacao, 2g proprietary blend of (Paeoniae Radix Alba, Cinnamomi Ramulus, Angelizae sinensis Radix, Zingiberis Rhizoma, Glycyrrhizae Radix, Jujubae Fructus, Astragali Radix, Albiziae Cortex, Corydalis Rhizoma, Acanthopanacis Senticosi, Salviae Miltiorrhizae, Cyathulae Radix, Olibanum, Myrrh), Coconut Palm Sugar, Himalayan Sea Salt, Organic Vanilla.
Eleven Quality Control tests are routinely executed to ensure the safety and quality of the Chinese Herbs. Each batch is tested to insure that they meet international safety and quality standards, authenticity and active ingredients.  They are free from heavy metals, mold, pollutants, insecticides, fungicides, herbicides, and pesticides.  This is done to ensure that you are using the safest Chinese Herbal product on the market today.
If pregnant or nursing, or taking medication, consult your health care professional before consuming.