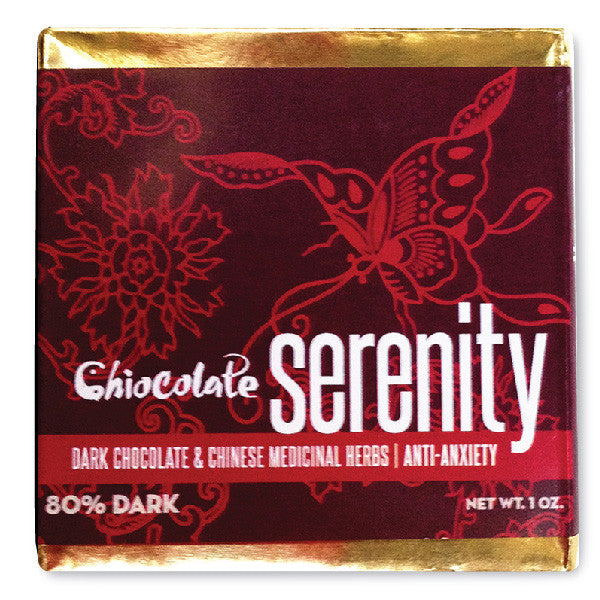 Serenity
The formula in Serenity is designed to calm the nervous system and help reduce anxiety. Traditional Chinese Medicine views anxiety as 'Shan You Si', or a tendency to worry or overthink things – a nervous system in overdrive.  This is my modification of Xiao Yao San that combines the Qi flowing nature of the formula along with the Shen (spirit) calming and mood brightening aspects of various herbs.  Xiao Yao San is usually translated into English as "Free & Easy Wanderer Powder".  It gives reference to 'unfettered wandering' of the Taoist Monks who prided themselves in being in tune with the movements of nature. There is a modern expression, "going with the flow," and this helps provide that state of being. Each bar contains a full 2 grams of concentrated herbal formula.  Up to three bars can be consumed in one day.
Ingredients: Organic Cacao, 2g proprietary blend of therapeutic grade: (Radix Bupleuri, Radix Paeoniae Lactiflorae, Sclerotium Poriae Parardicis, Radix Angelicae Sinensis, Concha Ostreae, Rhizoma Atractylodeis Macrcephalae,  Cortex Mouton, Radix Polygalae Tenuifoliae, Rhizoma Cyperi Rotundi, Cortex Albizziae Julibrissin, Fructus Schisandrae Chinensis, Zizyphi Spinosae), Coconut Palm Sugar, Himalayan Sea Salt, Organic Vanilla.
Our Chinese Herbs go through eleven quality control tests to ensure the safety and quality of the herbs. Each batch is tested to insure that they meet international safety and quality standards, authenticity and active ingredients.  They are free from heavy metals, mold, pollutants, insecticides, fungicides, herbicides, and pesticides.  This is done to ensure that you are using the safest Chinese Herbal product on the market today.
If pregnant or nursing, or taking medication, consult your health care professional before consuming.